2021 Scholarships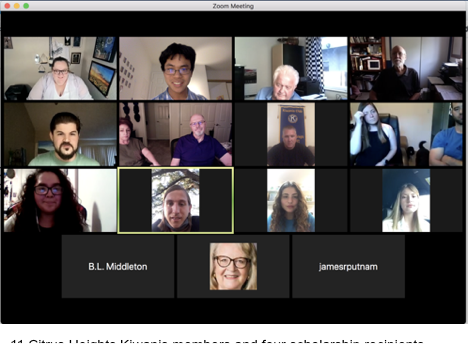 Citrus Heights Kiwanis Awards This Year's Scholarships
After Bradley Miller chaired the scholarship committee this year, Citrus Heights Kiwanis awarded five $1000 scholarships to college-bound seniors in our district. Four were able to attend one of our Zoom meetings; the fifth is sending a video.
Our committee was blown away by every applicant. After reviewing the transcripts, reading the essays, reading the recommendation letters, and making our decisions, the winners had this to say:
One winner is graduating from Bella Vista. She will attend Florida State as a Nutrition Science major, with plans to obtain a Doctorate in Physical Education. She is a rock climber, wants to be a part of nature, and wishes to bring free outdoor activities to those who could not otherwise afford it. She attends mission trips to Mexico and is inspired by humanitarian efforts, such as Doctors Without Borders, for doing what not every doctor is willing to do. She is a student athlete who understands the importance of physical therapy, and thanks us for the award.
One winner is also graduating from Bella Vista. She took part in Key Club for all four years of high school, and is going to attend the University of Pacific in a pharmacy program. She grew up in a low-income family that struggled to afford healthcare, so she understands the importance of what she is going to do.
One winner is graduating from Mesa Verda. She took part in Key Club for four years, including in a leadership role, and is going to pursue Computer Science.
One winner is also from Mesa Verde. He is pursuing Electrical Engineering because he always dreamed of going to space, but realized he could also support NASA/space programs as an engineer. He has always been fascinated by the STEM field.
Two of our Kiwanis members won the Key Club scholarship themselves, ten years ago, and say it feels like a blur. Bradley enjoyed leading this for the first time, and we were all inspired by the passion we got to directly observe in our youth.
Our president, Mike Wells, gave them a short speech that outlined the Kiwanis Club and what we stand for. Hopefully we will get to see some of these students again one day.